TIMETABLE
You can find our timetable online. Click here for the most current and updated version of our day-to-day activities.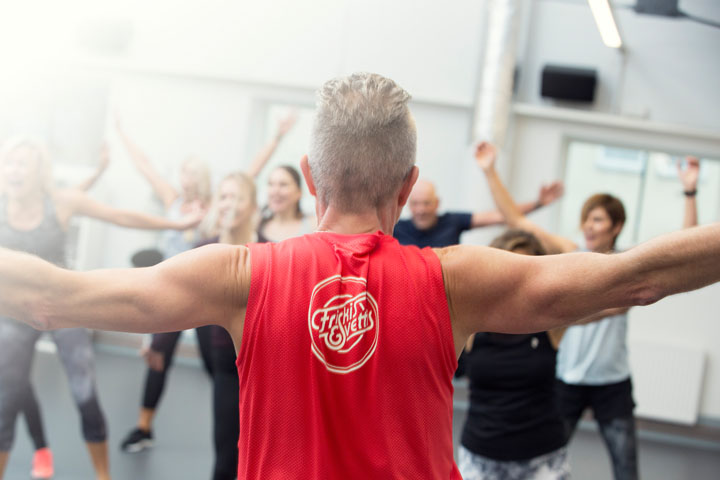 LOGIN
When you become a member, you automaticlly recieve a member profile which enables you to book classes.
Use our booking system online or in the Friskis&Svettis Linköping mobile app. Search "Friskis&Svettis Linköping" in the app store of your choice.
User name: the email adress you have registered with us.
Password: first six digits in your personal number YYMMDD.
Guidelines for booking a class
Book a class: Members with valid exercise passes can book classes in advance to ensure that a class has space for them. Classes are available for booking four days in advance at 6:30 am.
Cancelling a class: A member must cancel a class booking at least two hours in advance to avoid a no-show. Friskis Linköping operates with a "three strikes" non-attendance policy whereby three no shows in 60 days will result in a 60-day booking restriction. Any booking restriction can be made void by paying a fee of 100 kr. Contact the front desk for more information.
Check-in: You must check-in ahead of your class at the check-in screens by the front desk. Five minutes before a class begins all unclaimed bookings become available for drop-in. If you arrive later than five minutes ahead of your booked class, you must press the "boka" button on the check-in screen to ensure you get a spot. Please be advised that all drop-in spots (including the unclaimed bookings made available five minutes ahead) are first come, first served.
If you've booked a class and arrive earlier than five minutes ahead, you need only to touch your card on the scanner to check-in. If you're the least bit unsure, please ask our hosts at the front desk if you've been checked-in correctly.
Waiting list: If a class is fully booked, you can book onto a waiting list. When a spot becomes available, you will automatically be moved into the class and notified via email. You can be auto booked into a class no later than two hours before it starts. The waiting list is nullified two hours before the class begins.